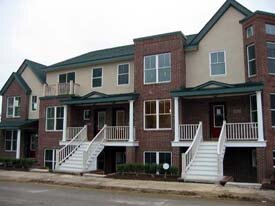 I came across this website on the city of Cleveland's green residential development known as the Cleveland EcoVillage. The EcoVillage is a mix of energy efficient single family homes and townhouses built on a redeveloped section of the city's west end. The village was built within walking distance of a transit station on a rail line that was supposed to be closed down.

This urban revitalization has been a success so far and is a huge win for the city of Cleveland as it makes its way back to prosperity after losing roughly half a million residents over the last 50 something years. The city, like Pittsburgh, has a green building coalition and is increasing its efforts towards becoming a sustainable city. Unlike Pittsburgh, however, Cleveland already has a pretty decent mass transit system in place, which helped rank Cleveland 28th on Sustain Lane's Green cities rankings.

This project gives hope for some of the blighted areas of Pittsburgh. There are already plans for two green housing developments in the Pittsburgh, although I don't see the transit system improving anytime soon, especially when we are spending half a billion on a tunnel to nowhere. Despite not having the transit in place, I think Pittsburgh's green movement could start to build some serious momentum if the city can work with the non-profits and transit authority to put some muscle behind an initiative like the EcoVillage.

From the EcoCity Cleveland website:

The first major development of the Cleveland EcoVillage project consists of 20 town homes on W. 58th Street just north of Lorain Avenue. The developer is the Detroit Shoreway Community Development Organization. EcoCity Cleveland is providing design assistance with the support of grants from the Cleveland Foundation and the George Gund Foundation.

As of June 2004, construction of all 20 units was complete and all had been sold. The town homes average 1,600 square feet and feature the latest green building features, including energy efficiency, controlled ventilation, non-toxic building materials, and proximity to transit. The architect is Betsy Pettit of Building Science Corporation, a national leader in the design of high-performance buildings.