The mainstream media has finally broken the news - higher demand for ethanol has lead to a chain reaction of inflation throughout the food chain. Dairy products like milk, cheese, and pizza are experiencing inflation due to dairy farmers having to raise their prices with a gallon of milk approaching $4 at the grocery stores.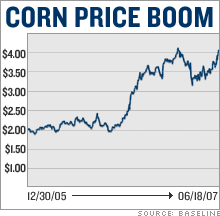 The dairy farmers are experiencing a perfect storm of price hikes for their two biggest expenditures - fuel for their machinery and corn which is used to feed their dairy cows. The dairy farmers are able to pass the cost onto the consumer, so the small pizza shop owner and low wage earners with 5 mouths to feed are the ones who are going to be feeling the pinch.

Now here is my question to you. For the short term consumers are going to suffer from both $3 gasoline and $4 milk, but what does this mean for the long run?

I for one think it could save us from going farther down a path towards chaos. I am serious when I say that. Corn is a commodity that should not be treated like a non-renewable fossil fuel. With the exception of natural events such as hurricanes, droughts, etc the price of corn should remain stable and not be subject to shortages due to government policies.

If our governments, both federal and state, continue to subsidize ethanol investments then we are going to be in a heap of trouble. There is only so much land available to grow corn and only so many bushels of corn that can supply ethanol fuel without affecting our food chain.


So, $4 milk may be a blessing in disguise as long as our politicians are paying attention. This may finally open their eyes to the fact that in order to meet ethanol demand they MUST LOWER OR REMOVE the tariff on imported sugar. Unless cellulosic technology is ready(it seems to be a year or two away) we must have another source for ethanol besides corn. Sugar has already been proven to more efficient source for ethanol and would be much cheaper than corn as long as the 54 cent subsidy is removed.


So, is there anyone out there who still think that corn based ethanol won't have a big impact on our food chain?